Description
This box Blue Wonder contains 2 very powerful sticks. The contents of 1 stick easily dissolves in a bottle with 500-750 ml warm water, transforming into a strong KITCHEN DEGREASER. Reusing your plastic bottles will help our planet stay blue – patent pending. 100% vegan!
PREPARE CLEANER IN 3 STEPS
RE-USE: Take a used bottle. Rinse the bottle & sprayer with water. Fill the bottle with 500-750 ml warm water (30° Celsius).
FILL: Pour the contents of 1 stick in the bottle with warm water, attach the sprayer and wait 1-3 minutes. Wash your hands well afterwards.
SHAKE: Shake the bottle a little and your KITCHEN DEGREASER is ready for use!
APPLICATION: Removes grease and dirt in a powerful way. Cleans amongst others ovens, hobs, work surfaces, extraction hoods, grid, pots, grill, engine gear and extremely soiled floors. Ready to use. Ideal for the big cleaning tasks.
DIRECTIONS FOR USE: Spray Blue Wonder on a clean cloth. Remove the contamination. Leave on for a few seconds and rub with a damp cloth. Job done! Applicable on all water-resistant surfaces. Always test for durability first on a small and unobtrusive spot.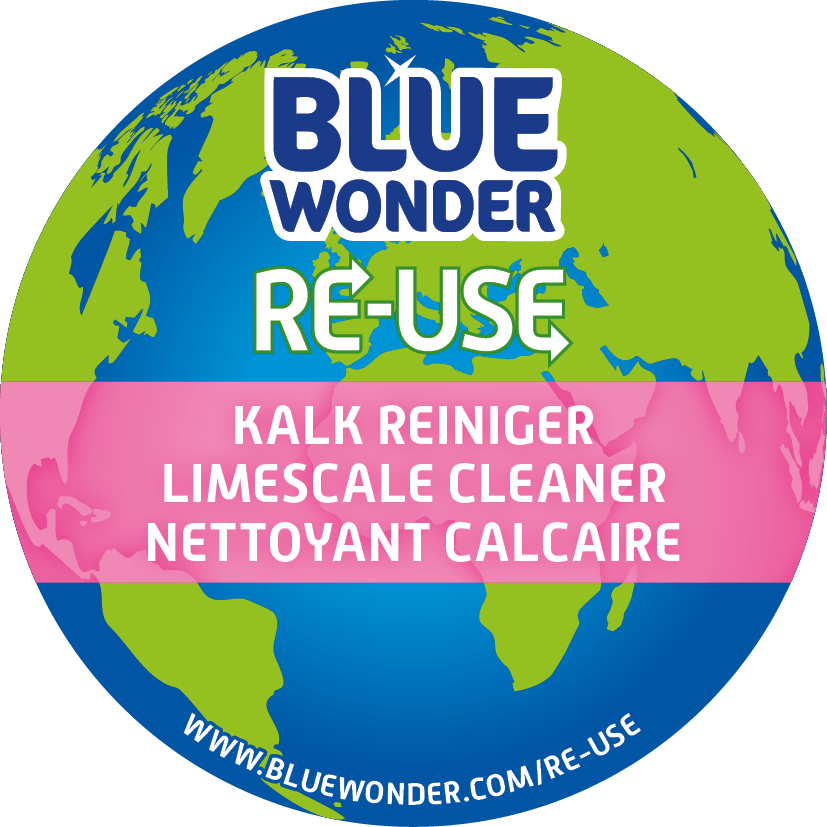 Stick the RE-USE sticker included in the box on your recycled vial.