Description
This box Blue Wonder contains 2 very powerful sticks. The contents of 1 stick easily dissolves in a bottle with 500-750 ml warm water, transforming into a strong LIMESCALE CLEANER. Reusing your plastic bottles will help our planet stay blue – patent pending. 100% vegan!
PREPARE CLEANER IN 3 STEPS
RE-USE: Take a used bottle. Rinse the bottle & sprayer with water. Fill the bottle with 500-750 ml warm water (30° Celsius).
FILL: Pour the contents of 1 stick in the bottle with warm water, attach the sprayer and wait 1-3 minutes. Wash your hands well afterwards.
SHAKE: Shake the bottle a little and your LIMESCALE CLEANER is ready for use!
APPLICATION: Strong descaling cleaning agent. Removes scale, soap residues and skin oils from, amongst others, washing basins, taps, showers, baths, tiles and sanitary facilities. Ideal for quick, daily cleaning jobs.
DIRECTIONS FOR USE: Spray Blue Wonder onto a clean cloth. Remove the contamination. Clean the cloth and wipe the surface once more. Job done! Always test for durability first on a small and unobtrusive spot. Do not use on acid-sensitive materials.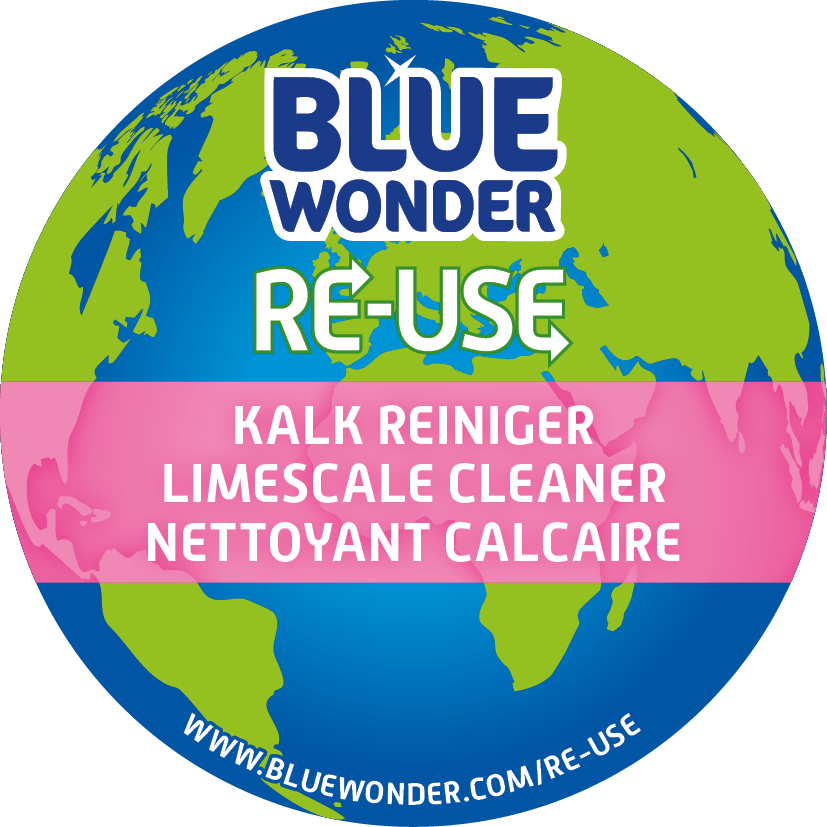 Collez l'autocollant RE-USE inclus dans la boîte sur votre flacon recyclé.